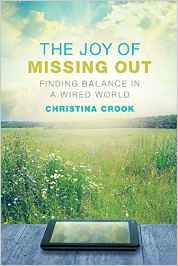 Thanks Everyone…we had a great evening with Christina!  Thanks for coming!
Special!!  Well-known Canadian author Christina Crook will be with us by live Skype to talk about her book The Joy of Missing Out on Thursday May 26, 7:00 – 8:00 pm (door open at 6:30 for light refreshments) at the One Way Center
**Important – please note that all of our meetings are structured so that you do not need to read the book in order to come to the meetings!
The Joy of Missing Out – Finding Balance in a Wired World, by Christina Crook. Most of us can't throw away our smartphone or cut ourselves off from the Internet. But we can all rethink our relationship with the digital world, discovering new ways of introducing balance and discipline to the role of technology in our lives. This book is for anyone wishing to rediscover quietness of mind, and seeking a sense of peace amidst the cacophony of the modern world.  Read all about Christina, her book, her TV and radio appearances here.
This is a free event.
About the Author:  In 2012 Christina disabled the data on her smartphone, turned off her email and said goodbye to the Internet for 31 days. This experience, chronicled as the project, Letters from a Luddite, garnered international media attention and fueled Christina's passion for exploring the intersection of technology, relationships and joy.  She has appeared on CTV Morning News, CBC's The Current, and Global News.
Christina has written for all major Canadian Christian publications including Faith Today and Christian Week.  She has appeared on 100 Huntley Street, and has an upcoming interview on Vision TV for the program Jim Cantelon LIVE.  Christina worked with 4MY Canada during the foundation years and helped lead numerous national Christian youth initiatives and served in campus ministries. Christina is an active member of Grace Toronto Church.